BEES: Beekeeping Empowerment Education Sustainability 
This project is being implemented as part of a large scale multi donor programme that supports the agriculture sector in Bamyan and aims to transform the livelihoods of over 50,000 Bamyan farmers by giving them access to cutting-edge agricultural techniques and business support. The Bamyan Agricultural Support Programme (ASP) will work with 40 farmer Cooperatives in four districts, giving Cooperative members access to mechanical equipment including tractors, high quality wheat and potato seed, livestock marketing training, and small business development.
COAM is working in two of these districts (Bamyan and Yakowlang) with 25 cooperatives to establish a community-based beekeeping industry for the development of successful, profitable and sustainable beekeeping in the Bamyan region in order to support grassroots poverty alleviation and with a particular focus on the empowerment of women within the community.
This project is a perfect fit with the 'COAM model' and aims to empower the members of the local communities,  through real and meaningful involvement in every stage of the establishment of a sustainable beekeeping enterprise, from the sourcing of raw materials to the processing and marketing of the beekeeping products. In addition opportunities for participation are increased in the initial stages by encouraging the communities to build simple equipment, that can later be upgraded to higher-grade equipment. Not only will beekeeping increase the diversity of local employment opportunities, thus improving local economic security, it will also provide a culturally appropriate and sustainable source of employment for Afghan women.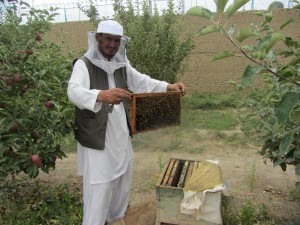 Bees benefiting the orchard in the grounds of the COAM head office.
This project is being implemented by COAM on behalf of Prime Consulting International Ltd and forms  part of the NZAID/DFID funded Afghanistan Agricultural Support Programme.
Downloads
Form more information on the situation of beekeeping in Bamyan download our information sheet here  BEEKEEPING IN BAMYAN 
Download project fact sheet here BEES PROJECT SUMMARY SHEET
Information on  Beekeeping with Apis cerena
Download BEES poster here
Download BEES brochure here
Download BEES project inception brochure here